If you love playing pickleball and need the right gear, a pickleball bag is essential. It helps you carry all your necessary equipment to matches and practice easily.
There are many options available, which can make it hard to choose the best one for women players. This guide will give you an overview of highly-rated pickleball bags designed for females, so you can find one that suits your needs. We will look at bags of different sizes, styles, and prices from trusted brands like Pickleball Central, Gamma, and Onix.
Whether you want an affordable, compact bag or a larger one with advanced storage options, you'll find recommendations for both recreational players and competitors. Having the right pickleball bag will make it easier for you to carry your paddles, balls, and other accessories, so you can focus on enjoying the game and getting better at it.
How to Choose the Best Pickleball Bag for Women
When choosing a pickleball bag for women, there are a few factors to consider:
First, determine what type of bag suits your needs. The three main options are:
Tote bags: Simple but stylish, these open bags are good for carrying a few essential items. However, they offer little protection for your gear.
Backpacks: For hands-free convenience, a backpack is a great choice. Look for one with padded straps and multiple compartments to keep everything organized. Some backpacks are specifically designed to carry paddle racks.
Duffle bags: For maximum storage, a duffle bag is ideal. A duffle bag will have handles as well as a shoulder strap and separate shoe storage. Some duffle bags can hold up to 6 paddles and additional gear.
Next, consider the size and number of compartments. Do you need space for paddles, balls, shoes, towels and other gear? The more serious player will want a bag with padded pockets for paddles, exterior pockets for shoes and interior dividers to keep everything accessible.
Finally, look for a bag made of high-quality, durable materials like nylon or polyester with reinforced stitching. Padded straps will make the bag comfortable to carry. With the right features and construction, a well-designed pickleball bag can withstand frequent use and last for many seasons.
By assessing how you intend to use the bag and determining the right type, size and features, you'll find a pickleball bag that suits both your needs and personal style. With the growing popularity of pickleball, there are many options available so you can choose a bag that helps you enjoy this fun sport.
Top Pickleball Bags for Women: Reviews
For female pickleball players, having a bag designed specifically for your equipment and gear can make a big difference in your experience on the court. The following bags are highly rated, stylish options made for women that provide both functionality and comfort.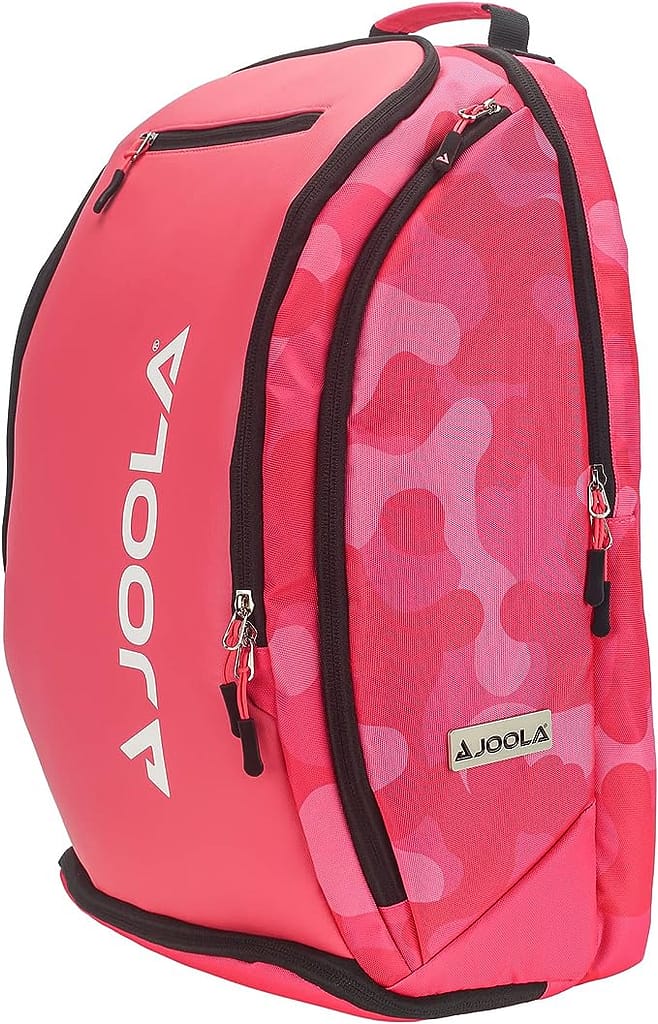 This lightweight yet durable bag has a separate vented compartment for shoes, a pocket for personal items, and padded straps for easy carrying. It holds 2-4 paddles and 3-6 balls. The stylish teal and black design is made of water-resistant fabric, perfect for outdoor play. At around $30, it's an affordable, high-quality choice for recreational or competitive players.
For players wanting maximum storage, the Franklin Sports Pickleball Bag holds up to 3 paddles, 6bballs, gear, and accessories in its multi-pocketed design. Padded straps, tough canvas fabric, and reinforced stitching provide comfort and longevity. Interior dividers keep everything organized, while exterior pockets give you quick access to smaller items. This highly-rated bag is available for under $50- depending on color and design.
This sporty pickleball backpack lets you carry all your gear hands-free. It fits 2-4 paddles, balls, shoes, towels and more in its multiple zippered compartments and pockets. Padded shoulder straps, air mesh back panel, and reinforced stress points make it comfortable to wear during long matches or tournaments. With a variety of colors ranging from $60-$90, the adidas Utility XL Backpack is a stylish yet practical solution for any female player.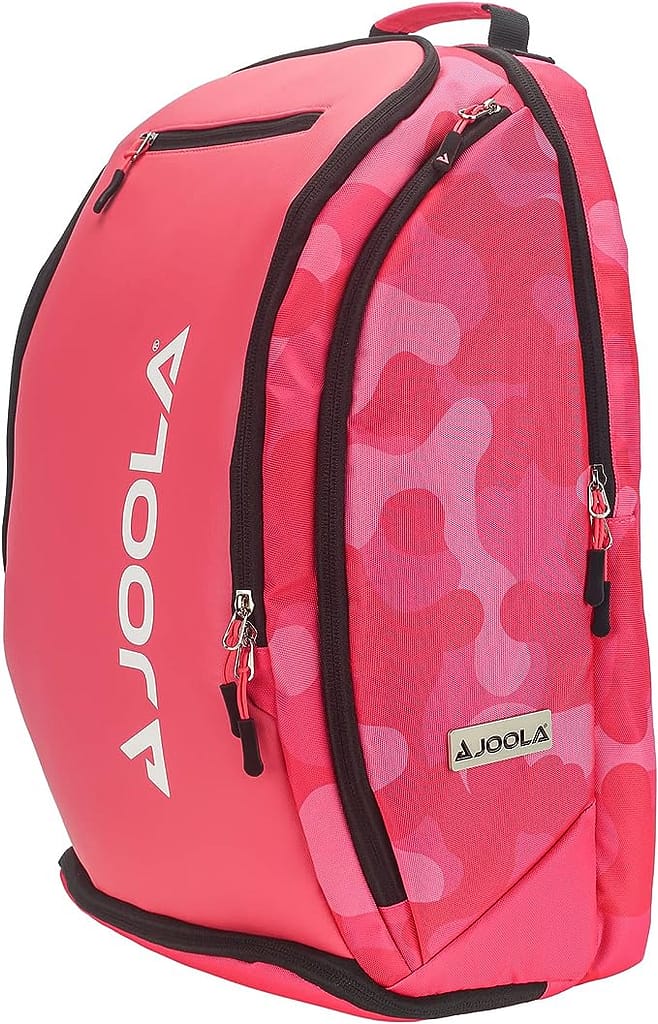 JOOLA Pickleball Bag is a premium option for any serious female pickleball player. This bag is designed to hold everything you need for competitive play.
Spacious Storage
The JOOLA Pickleball Bag features three main storage compartments to keep all your gear organized. The main compartment has padded dividers to separate paddles, balls, shoes, and other equipment. There are also two external zippered pockets for smaller items like wrist bands, towels, and grips. With a capacity of over 2,000 cubic inches, this bag can hold up to 4 paddles and has more than enough room for balls, shoes, and accessories.
READ MORE: Find Your Perfect Luxury Pickleball Bag and Hit the Court in Style
READ MORE: Best Women's Pickleball Totes: Stylish and Functional
High Quality Construction
This bag is made of durable 600D polyester canvas with reinforced stitching for maximum strength and weather resistance. The padded shoulder strap and carry handles make it comfortable to transport whether you prefer to carry it over your shoulder or by hand. Metal hardware and zippers are rust-resistant and built to last through frequent use and exposure to the elements.
Additional Features
Some additional useful features of the Gear Pro Elite bag include:
•Ventilated shoe compartment to keep odors contained
•Interior padded dividers for paddle protection
•Exterior paddle pockets for quick access
•Reinforced plastic base to keep the bag upright
•Hidden anti-theft pocket for valuables
•Available in 3 color options: black, blue and pink
For the female pickleball player who wants a high-performance bag to match her skills on the court, the JOOLA Pickleball Bag is an excellent choice. This bag has all the space and features any avid player could need for practice, lessons or competitive tournaments. With its durable and weather-resistant construction, this bag is designed to last for many seasons of play.
The Franklin Sports Pickleball Bags is a stylish yet highly practical choice for female pickleball players. This bag features a sleek design with accents of fuchsia that is fashionable yet functions well for athletic equipment.
Spacious Interior
The Franklin Sports Pickleball Bags provides ample storage space for all your gear. The main compartment features padded dividers to keep paddles, balls, wrist bands, and other equipment organized and protected. Exterior pockets on both ends of the bag and a large front pocket provide additional storage for smaller items like keys, phone, wallet, and towels. With all the pockets and storage areas, you'll have room for everything you need for your pickleball matches and practice sessions.
Durable and Weather-Resistant
This bag is made of high-density nylon that is durable and weather-resistant. The tough material stands up well to regular use and protects your equipment from rain or snow. The bag also features reinforced straps for comfort and padded handles for easy lifting and carrying. An adjustable shoulder strap gives you the option to carry the bag hands-free.
Designed for Convenience
The Franklin Sports Pickleball Bags has several design features geared toward convenience. A Velcro paddle holder on the outside of the bag provides easy access to your paddles. A detachable accessories pouch inside the bag lets you keep smaller items together in one place. Several interior mesh pockets, including an expandable pocket, help you stay organized. And a separate vented pocket is ideal for keeping shoes separate from the rest of your equipment.
READ MORE: Unique Pickleball Bags: A Comprehensive Guide
READ MORE: Pickleball Sling Bags for Ladies: Buying Guide
Overall, the Franklin Sports Pickleball Bags offers an ideal combination of style, storage space, durability, and convenience. For female players seeking an affordable, high-quality bag, the Python is an excellent choice. With this bag, you'll have everything you need for your favorite sport, all in one stylish and easy-to-carry pack.
The Onix Pickleball Backpack is a great beginner bag option for recreational players. This lightweight yet durable backpack is designed specifically for pickleball, with multiple storage compartments to keep all your gear organized.
Spacious Main Compartment
The main compartment of the Onix Pickleball Backpack offers ample space for 2-4 pickleball paddles, balls, a change of clothes, towel, and any other essential gear you need for a day on the court. Paddles and balls can be stored in the integrated paddle sleeve and mesh ball pocket to prevent damage.
Multiple Storage Pockets
In addition to the main compartment, there are several exterior pockets to store smaller items. A zippered pocket on the front is ideal for keys, wallet, phone and other valuables. Two side pockets provide easy access to water bottles, snacks or accessories. An interior pocket can hold smaller necessities like grips, wrist bands or tape.
Comfort and Convenience
The Onix Pickleball Backpack has padded shoulder straps and back panel for maximum comfort, even when fully loaded. It can be carried as a backpack or converted to a shoulder bag. An integrated handle on top also allows you to quickly grab and go. At only 1.5 pounds, this bag is lightweight and won't add extra bulk, making it suitable for players of all skill levels.
Durability
Constructed of high-density nylon, the Onix Pickleball Backpack is made to last through regular use and exposure to the elements. The water-resistant material will protect your gear from rain and perspiration. Reinforced stitching at stress points provides extra strength and prevents tearing over time. This bag is a smart investment for any pickleball player looking for an affordable yet long-lasting gear bag.
For amateur and recreational pickleball players, especially beginners, the Onix Pickleball Backpack offers an ideal solution to transport paddles, balls and accessories to and from the courts. With its spacious yet organized design, comfort features and durable construction, this backpack has everything a casual player needs at an affordable price point.
FAQs about pickleball bag for womens
Frequently Asked Questions (FAQs) about Pickleball Bag Womens
As you shop for a pickleball bag, you likely have some questions about the options available and what you really need. Here are some common FAQs to help guide your buying decision:
How much storage space do I need in a pickleball bag womens?
The amount of storage space needed depends on how much equipment you need to carry. If you only have the basics – a paddle, balls, court shoes, a visor and a water bottle – a smaller 6-8 pocket bag with pockets for each item should suffice. However, if you also want to carry items like knee pads, wrist guards, towels, a change of clothes, medkit, etc., you'll want a larger bag with 10-15 pockets to keep everything organized.
What size pickleball bag womens do I need?
Pickleball bag sizes are usually categorized as small (holds 1-2 paddles), medium (holds 2-4 paddles) or large (holds 4+ paddles). As a general rule:
Small: For recreational or casual players who only need to carry 1-2 paddles and a few other items.
Medium: For recreational or league players who need space for 2-3 paddles, balls, shoes, water and extra gear.
Large: For serious or tournament players who need space for multiple paddles, balls, shoes, clothing, accessories and more.
What are the most important features to consider?
Some key features to consider for a pickleball bag womens include:
• Paddle pockets: Look for a padded pocket that can hold 1-4 paddles securely.
• Ball pocket: A designated pocket to hold pickleballs.
• Shoe compartment: A separate ventilated compartment for court shoes.
• Water bottle holder: An external pocket or mesh holder for a water bottle.
• Durability: Look for a bag made of durable, weather-resistant fabric like polyester, nylon or canvas.
• Shoulder strap: An adjustable shoulder strap allows you to carry the bag hands-free. Some bags also have backpack straps.
• Additional pockets: Outside pockets for items you want to access quickly like your phone, keys or wallet. Inside pockets help keep smaller items organized.
• Budget: Pickleball bags range from $20 to $100+ depending on the size, brand and features. Set a budget before you start shopping.
Does this help answer some of your questions about what to look for in a pickleball bag womens? Let me know if you have any other questions.
Conclusion
As you have seen, there are many excellent options for pickleball bags designed specifically for women. Whether you prefer a backpack, duffel or sling bag, want extra storage space or just the basics, there is a high-quality bag to suit your needs.
Take the time to consider how often you play and what equipment you need to carry to determine the ideal size and style. Then choose a bag from a reputable brand known for durability and comfort. With the right pickleball bag, you'll be ready to head out to the courts in style and enjoy this fun sport for years to come. The key is finding one tailored to your specific requirements as a female player.
Now that you have the information on some of the best options available, you can make an informed choice and purchase with confidence. Happy shopping and good luck finding your perfect pickleball bag!

Pickleball Lover & Enthusiast. Sharing my love for the game on my website. Come join me for all the pickleball fun & get your paddle on!