If you are a pickleball enthusiast and are looking for Women's Court Shoes For Pickleball, then you have come to the right place. As a woman, you want your pickleball court shoes to be comfortable and stylish yet functional for your sport.
Having the right pickleball court shoes makes all the difference when it comes to your performance on the court. The wrong shoes can lead to blisters, sore feet, and other foot-related issues that can affect your game. It is essential to choose the right kind of shoe for your specific needs.
In this article, we're going to give you an in-depth guide on women's pickleball court shoes. We'll discuss what features to look for in a pair of pickleball shoes, as well as give you tips on how to choose the best ones for you. So whether you're new to pickleball or an experienced player, this buyer's guide will help ensure that you make the best purchase possible!
What to Consider When Purchasing Women's Court Shoes For Pickleball
When selecting a pair of court shoes for pickleball, you'll want to be sure they have the right features. Here are some factors to take into consideration:
Fit & Comfort: To get the most out of your pickleball shoes, ensure they fit correctly. They should be snug and secure but still, allow for foot movement. This will keep your feet comfortable during intense games.
Support & Cushioning: Pickleball requires a lot of fast movements, so it's important to find shoes with good support and cushioning. Look for features such as arch support and shock-absorbing midsoles and outsoles to help protect your feet.
Traction & Grip: Make sure the soles are designed with traction in mind as you'll need grip as you move around the court quickly. Look for grippy rubber outsoles that won't let you slip up on the court.
Durability: Pickleball is an active activity, so you need shoes that can withstand hard courts and frequent gameplay. Choose shoes made of high-quality materials that won't wear out quickly due to friction or vigorous movements.
Different Types of Court Surfaces and the Shoes Needed
When you're shopping for court shoes for pickleball, it's important to consider the type of surface you'll be playing on. The most common types are concrete, asphalt, and hardwood court surfaces, and each requires a different kind of shoe to perform optimally.
Concrete Court Shoes
For concrete pickleball courts, it's best to choose a shoe with a hard rubber sole. Harder soles have more resilience on this surface, which can help with stability and durability. Extra cushioning and arch support are also beneficial when playing on concrete courts.
Asphalt Court Shoes
Asphalt courts require shoes that provide superior traction. Look for shoes with multidirectional rubber or gum rubber soles with deep treads. Shoes with appropriate cushioning are also beneficial in helping keep your feet comfortable through long sets on asphalt courts.
Hardwood Court Shoes
Hardwood is the least common pickleball court surface, but it still requires special features from the shoes you wear on it. Look for non-marking soles so as not to damage the court floor during your game and for maximum grip control during sudden stops or fast turns, choose shoes with gum rubber or herringbone patterns on their outsoles.
Top 10 Women's Court Shoes For Pickleball
You can't go wrong with any of these top picks for women's pickleball court shoes. Whether you're looking for maximum stability and grip, lightweight comfort and cushioning, or a combination of the two, these shoes have it all.
So, here are our top 5 Quick picks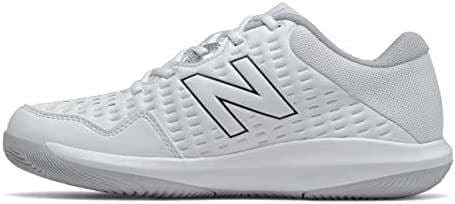 Our TOP Pick
Rubber sole
Full-length Ndurance outsole
Synthetic and mesh upper offers a comfortable fit
Non-marking outsole
Adjustable lace closure for a customized fit
And Lots of Colors Options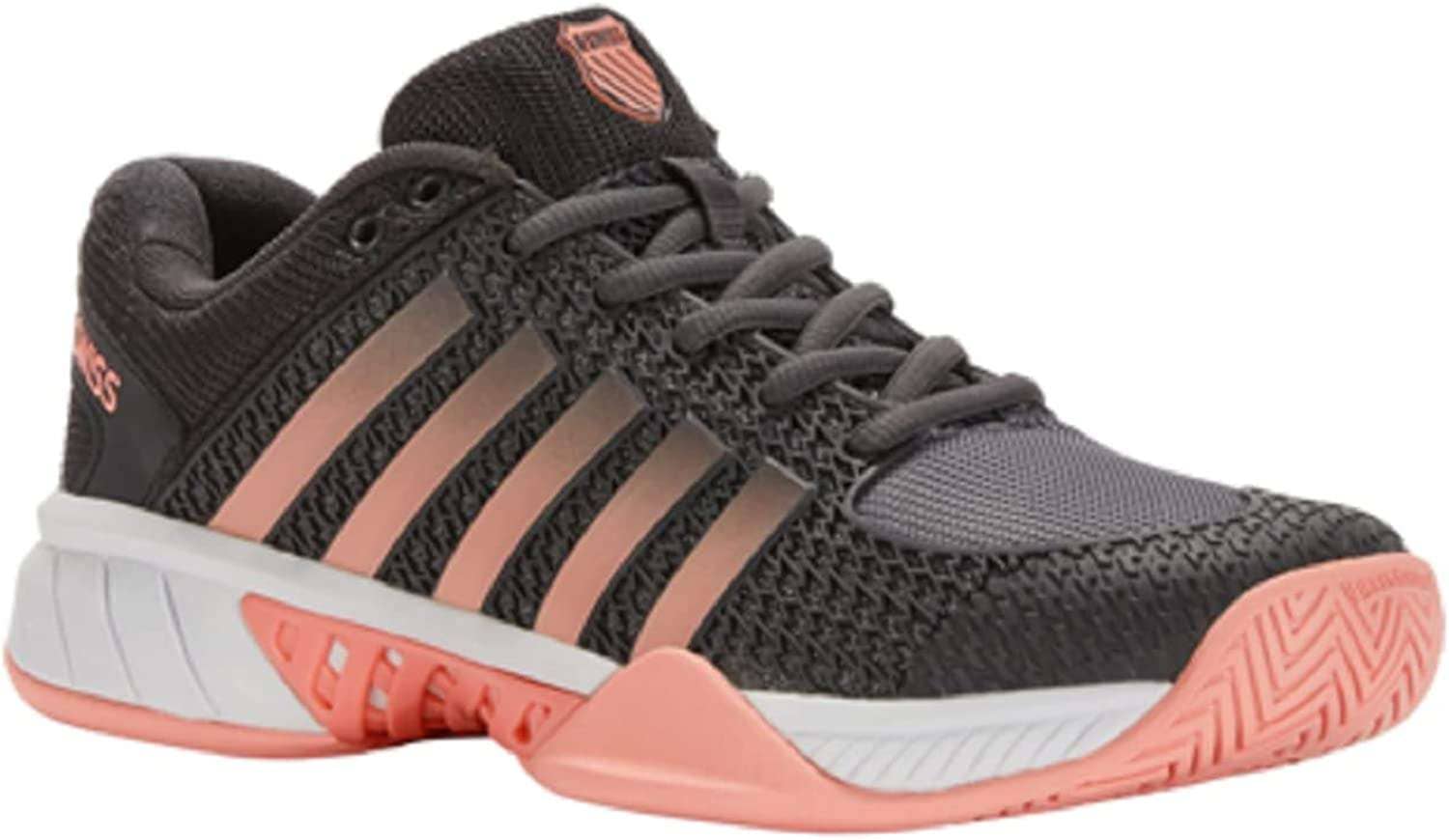 Best For Tournaments And Longer Matches
100% Synthetic
Imported
Rubber sole
AÖSTA 7.0 RUBBER COMPOUND
180 PSC PLANTAR
DRAGGUARD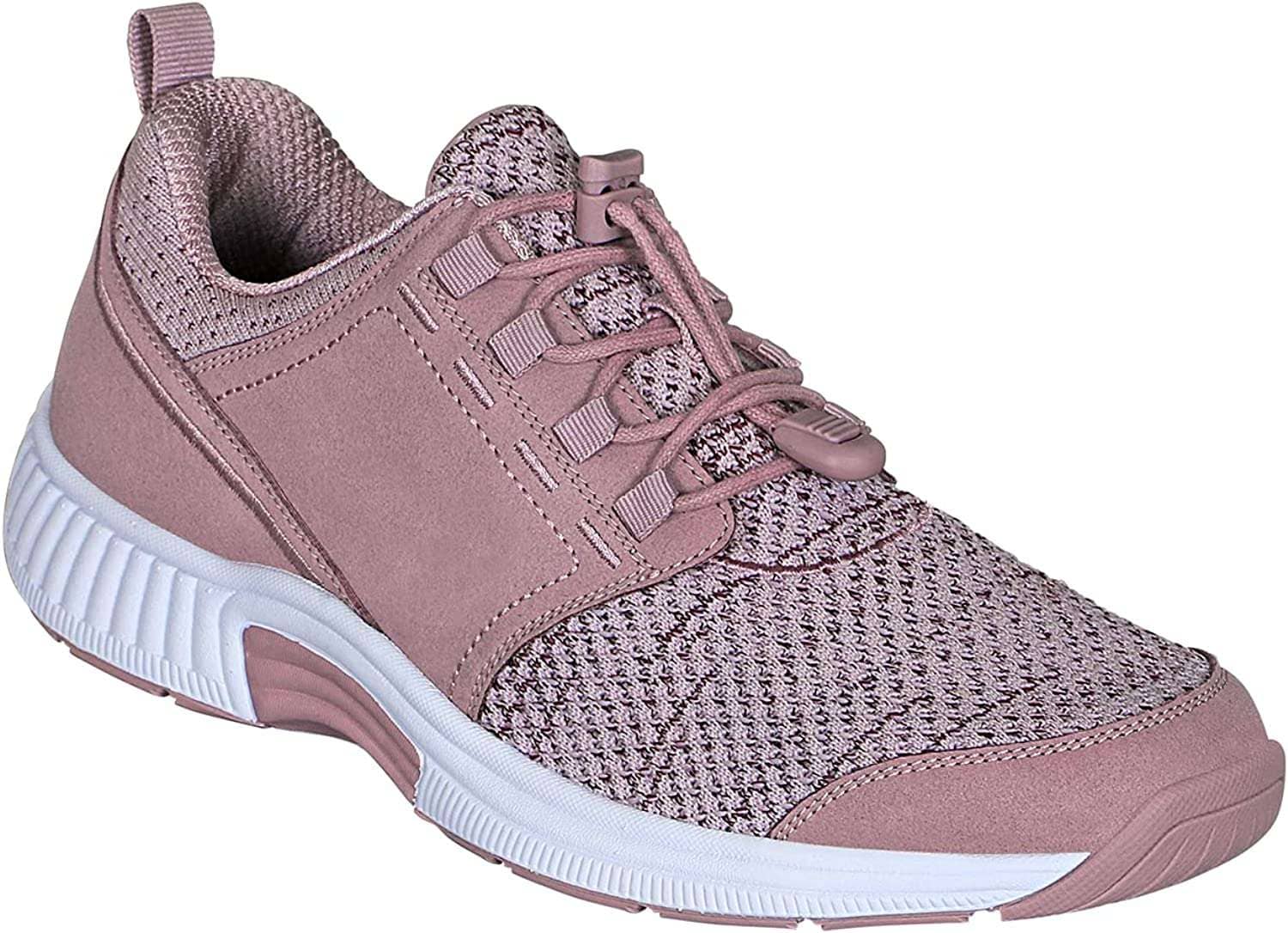 Ideal for Plantar Fasciitis
Ideal for Plantar Fasciitis, Foot & Heel Pain Relief. Arch Support, Cushioning Ergonomic Sole & Extended Widths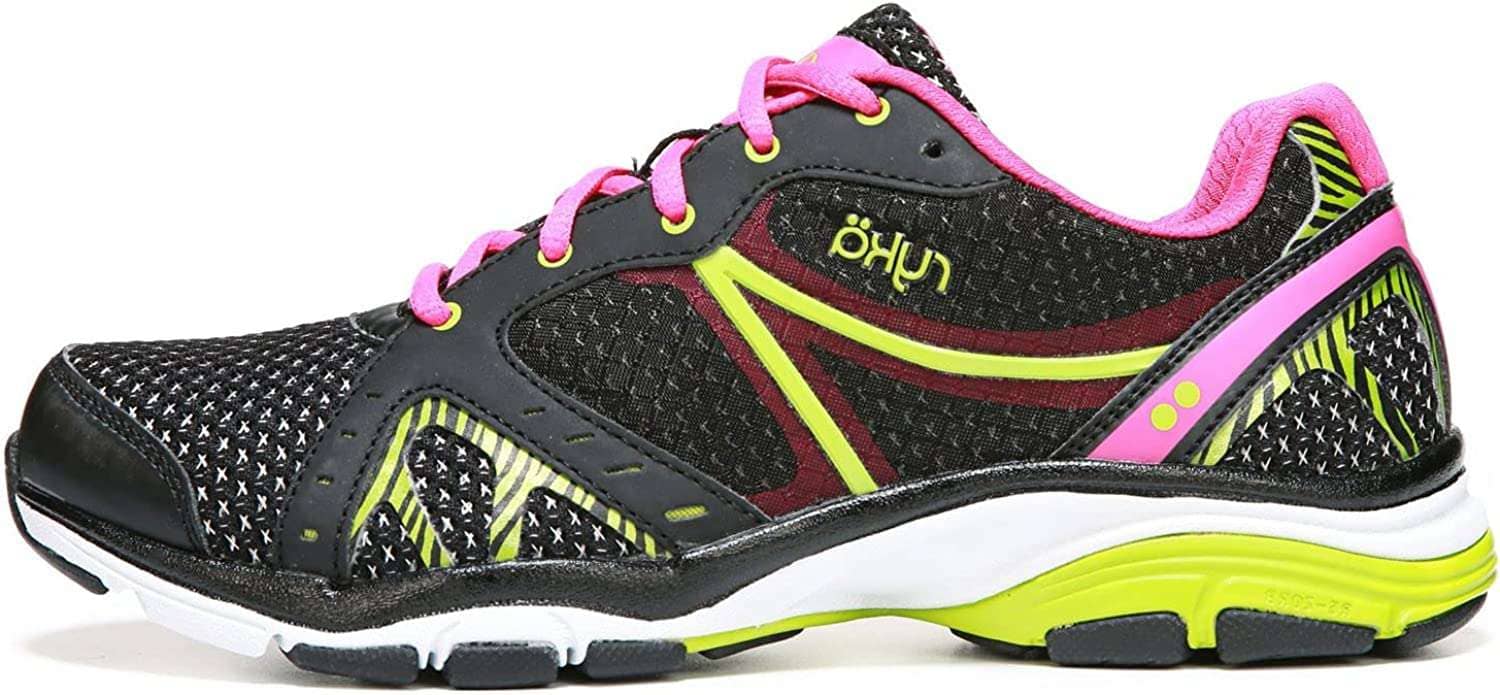 Women's specific fit
Made in the USA or Imported
Synthetic sole
The shaft measures approximately low-top from arch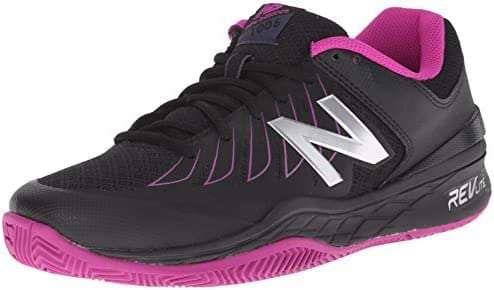 Best For Solid Court Grip
75% Synthetic, 25% Mesh
Imported
Rubber sole
The shaft measures approximately low-top from arch
Long-wear drag tip
Non-marking outsole
The New Balance Women's 696 V4 Hard Court Tennis Shoe is a great choice for pickleball players who require extra support during intense matches. It offers a midfoot wrap construction that offers extra cushioning and protection against abrasions, as well as a Ndurance rubber outsole for maximum durability. The shoe also has a Fantom Fit upper for a snug, lightweight fit, and a breathable mesh tongue to keep your feet cool during long games.
The pros
comfortable fit,
excellent cushioning and support, and durability.
The Cons
is its lack of support for wide feet. While most players do not need additional width in a tennis shoe, those with wider feet may be disappointed with this purchase as it can feel tight on their feet. The cons include the cost, which may be out of reach for some budget-conscious players,
For pickleball players who want a lightweight and breathable shoe to use on the court, the New Balance Women's 696 V4 Hard Court Tennis Shoe could be worth checking out if they have narrower feet or don't require additional width in their shoes.
K-Swiss Women's Express Light Pickleball Shoe Review
The K-Swiss Women's Express Light Pickleball Shoe is a great choice for any female looking to pick up the sport of pickleball. It offers great value for a low cost and provides some amazing features!
What makes this shoe stand out? Let's dive into some of the pros and cons.
Pros:
Unique cushioning technology that allows for maximum shock absorption and energy return
Soft, synthetic leather upper with added perforations for breathability
Lightweight and flexible design to keep you agile on the court
Durable, full rubber outsole to provide all-day grip and traction during your games
Cons:
Limited color options to choose from
Lack of arch support may be an issue for some players
The K-Swiss Women's Express Light Pickleball Shoe is perfect for those looking for an affordable shoe that still provides performance. With its combination of lightweight design, cushioning technology, and durable outsole, it's sure to be a great addition to your pickleball gear!
Orthofeet The Ultimate Walking Shoes for Women Review
For players who are looking for the ultimate in comfort and cushioning, Orthofeet Women's Ultimate Walking Shoes are a great choice. Constructed with extra thick soles and internal arch support, these shoes guarantee all-day comfort and stability.
The upper is made of breathable mesh fabric, while the midsole is built with a triple-density gel core that ensures shock absorption and heel impact cushioning. Plus, the outsole is non-slip to guarantee secure footing on the court.
The Pros:
Extra cushioning for shock absorption and comfort
A breathable upper for improved air circulation
Non-slip outsoles for secure footing
Internal arch support for added stability
A triple-density gel core for increased durability
The Cons include:
They tend to run slightly small in size
They may not provide enough support or stability compared to other court shoes
They are more expensive than other options on the market
Ryka Women's Vida RZX Training Shoes Review
The Ryka Women's Vida RZX Training Shoes are among the top women's shoes for pickleball. This mid-priced shoe has a light and responsive PU midsole that adds cushioning and provides an efficient, dependable surface for quick stops and starts on the court. The removable insole adds an extra layer of comfort and the slip-resistant outsole provides great grip on court surfaces.
It also features a strategic lacing system to add a snug, secure fit while still allowing plenty of room to move. The heel counter holds your foot in place when making sharp movements and the breathable mesh lining keeps your feet cool.
Pros:
Lightweight PU midsole provides cushioning and stability
A slip-resistant outsole gives great traction
The lacing system ensures a secure fit
A removable insole adds extra cushioning
The heel counter locks your foot in place for aggressive movements
Mesh lining is breathable and keeps feet cool
Cons:
Not machine washable
Sizing may run small for those with wide feet
New Balance Women's 1006 V1 Tennis Shoe Review
The New Balance Women's 1006 V1 Tennis Shoe provides the perfect blend of comfort and durability, thanks to its combination of synthetic materials and high-density cushioned midsole. As a court shoe meant for pickleball, it also provides dependable grip on any surface, and flexibility when you need it most.
These shoes come in a variety of colors and sizes, so you can find the right option for your style. Additionally, they are lightweight and breathable with their mesh upper construction.
The Pros
they offer great cushioning from the cushioning system built into the shoe sole
they provide superb arch support with the REVlite midsole technology.
the outsole has a sufficient grip for a solid footing during quick movements on the court.
The cons:
lack of stability control in comparison with other court shoes, as well as inconsistent sizing that can be difficult to fit into properly.
these shoes are primarily designed for pickleball play rather than other sports or activities, they may lack versatility in terms of other use cases.
New Balance Women's FuelCell 996 V5 Hard Court Tennis Shoe Review
This shoe is designed to provide superior cushioning and support, giving you the agility and responsiveness needed to perform your best on the court. The high-performance midsole foam provides dynamic cushioning and energy return while its premium materials ensure a secure yet comfortable fit. The outsole has non-marking rubber which ensures added durability and traction on hardcourt surfaces and a Rock Stop midsole protector which keeps you safe from the shock of the surface.
The Pros:
Breathable mesh upper: made with an engineered mesh to provide added ventilation
Lightweight Feel: designed to be lightweight yet supportive
High-performance midsole foam: provides superior cushioning and energy return
Non-marking outsole rubber: for excellent traction on hard court surfaces
Rock Stop midsole protector: for shock absorption on hard court surfaces
The Cons:
this shoe can be expensive when compared to others in the same category
Uncomfortable for wide feet: those with wide feet may find the fit too narrow
Mizuno Women's Wave Sky 5 Running Shoe Review
The Mizuno Women's Wave Sky 5 Running Shoe is a great pick for those looking for a court-ready shoe for pickleball. It features a lightweight, breathable mesh upper and seamless construction to reduce pressure points. The midsole is designed with cushioning foam technology to give your feet the extra cushioning they need when hustling across the court during rallies.
The Wave Sky 5 also provides plenty of grip and stability. It has a durable rubber outsole designed to provide maximum traction with its reinforced tread pattern, while its full-length U4ICX midsole ensures stability and shock absorption on every step you take. It also has an X-10 technology grip which helps improve traction on court surfaces.
Pros:
Lightweight & breathable upper
Seamless construction to reduce pressure points
Cushioning foam technology in the midsole
Durable rubber outsole for maximum traction
X-10 technology grip for improved traction
Cons:
Some users find it too narrow in the toe box
New Balance Men's 696 V5 Hard Court Tennis Shoe Review
The New Balance Men's 696 V5 Hard Court Tennis Shoe is a great choice for pickleball players looking for a lightweight, comfortable court shoe that provides good traction and stability.
The 696 V5 features a breathable air mesh upper with synthetic overlays, a cushioned midsole with full-length CMEVA foam, and an NDurance rubber outsole for durable traction on the court. The shoe is also equipped with a no-sew design to reduce weight, as well as a Ndurance rubber outsole to provide extra durability.
Pros:
Lightweight and comfortable
Provides excellent support and stability
Durable NDurance rubber outsole
Breathable upper with synthetic overlays
Cons:
Not as much cushioning as some other shoes
Limited color choices
Butterfly Lezoline Rifones Shoes Table Tennis Shoes for Men or Women Review
If you're looking for a great pickleball court shoe, the Butterfly Lezoline Rifones Table Tennis Shoes for Men and Women are worth a look. These shoes boast an ultra-lightweight design, making them perfect for long, active pickleball matches.
They offer excellent cushioning and arch support with their shock-absorbing sole and they also have good breathability, thanks to their mesh upper construction. Additionally, they feature an anti-slip sole that helps to keep you stable on the court.
In terms of their construction, these shoes are made with a combination of synthetic leather and mesh-synthetic materials which helps to provide durability as well as comfort. Additionally, the shoe has a low profile which gives it a stylish look and a streamlined silhouette.
The Pros:
Ultra-lightweight design
Shock-absorbing sole
Good breathability
Anti-slip sole
Combination of synthetic leather and mesh-synthetic materials for comfort & durability
Low profile design
The Cons:
Not ideal for wide feet
Expensive compared to other court shoes
Adidas Women's Courtjam Control Tennis Shoe Review
The Adidas Women's Courtjam Control Tennis Shoe is perfect for pickleball players who want to stay on top of their game. This shoe combines lightweight cushioning, flexible support, and superior grip in a stylish package.
Pros:
Lightweight and breathable mesh upper that helps keep your feet cool and comfortable.
EVA midsole provides cushioning and excellent shock absorption.
ADIPRENE PLUS in the forefoot offers responsive cushioning while the TORSION midfoot system ensures stability and support during multi-directional movements.
RUBBER outsole with ADIWEAR 6 technology guarantees superior durability and enhanced traction for a sure-footed feel on court surfaces.
Cons:
The toe box is narrower than other shoes, which might not be suitable for wider feet or for those looking for more room in their footwear.
Some users had reported that the sizing runs small compared to regular street shoes, so make sure you double-check check size when ordering online or getting them from the store if possible.
Tips For maintenance of your Court shoes for Pickleball
Maintaining your court shoes is essential for your pickleball game. Here are a few tips on how to keep your court shoes in top shape:
Cleaning and Drying
Regularly clean your court shoes with mild soap or detergent and water. Afterward, allow them to air-dry in a cool, well-ventilated area away from direct sunlight. Avoid putting them in the dryer or washing machine as this can damage the material.
Rotate Shoes
Rotate between two different pairs of court shoes so they both get an equal amount of use and wear. This will help you get more use out of both pairs and extend their life span.
Check Wear & Tear
Check the condition of your court shoes after they've been used for a while, looking for signs of wear and tear such as scuffs and holes in the soles or upper material. If you see any of these signs, it's time to replace them with a new pair so that you have the best grip possible on the pickleball court.
Final Thought
When selecting the right women's court shoe for pickleball, it is important to consider the design and materials of the shoe, as well as the type of surface you will be playing on. A well-crafted pair of shoes should feature proper cushioning, arch support and shock absorption, as well as additional features such as water-resistant capabilities and breathable materials. Finally, if you're looking for style, there are numerous colors and patterns available in a variety of styles, so you can express your unique personality on the court.
Read More: best pickleball paddle for intermediate players 2023
FAQs About Women's court shoes for Pickleball
Do you have some lingering questions about Women's court shoes for pickleball? Here are the answers to FAQs about this fantastic sportswear.
Q: What are the features of good court shoes for pickleball?
A: Good court shoes for pickleball should provide support and cushioning without feeling too heavy. They should also have a flexible sole, allowing you to move quickly and with agility on any surface. Look for shoes with a reinforced toe area, as well as non-marking outsoles to avoid excess wear and tear on the court.
Q: Is there an advantage to wearing lightweight shoes when playing pickleball?
A: Yes, lightweight shoes provide increased agility and maneuverability, which is essential when playing pickleball. Plus, they won't weigh you down while you move around the court, which can help improve your overall game performance.

Pickleball Lover & Enthusiast. Sharing my love for the game on my website. Come join me for all the pickleball fun & get your paddle on!